Jim Click's Millions for Tucson Raffle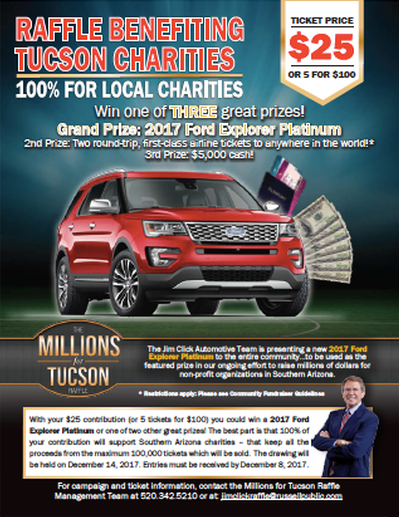 Buy your 2017 Jim Click Millions for Tucson raffle tickets from Primavera!
With your $25 contribution (or 5 tickets for $100) you could win a 2017 Ford Explorer Platinum or one of two other great prizes. The best part is that 100% of your contribution will support Primavera - keeping all the proceeds from the maximum 100,000 tickets which will be sold. The drawing will be held on December 14, 2017. Entries must be received by December 8, 2017.
Since 2004, Jim Click, Jr. has initiated seven raffles* for charities in the Greater Tucson area and has donated a vehicle as the raffle prize. Eligible 501(c)(3) charities have been encouraged to sell tickets for the raffle with each charity keeping 100% of the proceeds raised. The raffle has been one of the many ways the Click family has been able to give back to the community that has given his family so much since they came to Tucson in 1974.
*Previous raffles have raised nearly five million dollars for local charities.
For complete details, download the official flyer below.