Children's Shoe & Jacket Drive - In Memory of South Tucson Police Deputy Chief Ernie Mejia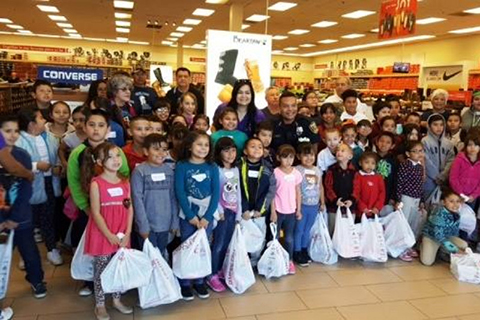 Ernie Mejia was a police officer and school resource officer with both the Tucson Police Department and the South Tucson Police Department, serving more than 41 years. He served the last six years of his life as Assistant Chief of Police for the South Tucson Police Department. During his years on the force, he spearheaded a drive for donated funds to provide new shoes for low-income school children there. Years after his death in 2002, Ernie's legacy of collecting for the less fortunate children and their families continues to thrive in South Tucson.
This holiday season, the City of South Tucson Police and Fire Departments, and Healthy South Tucson (Primavera Community Partners) are asking for your help in providing 70 elementary school students from South Tucson with a new pair of shoes and a jacket. On December 13, 2017, South Tucson Police and Fire officers will accompany these students to select a new pair of shoes. They will then enjoy lunch and receive a new winter jacket and a book. Please consider giving anything you can or fully sponsoring a child for $75.
Please make your donation before December 8, 2017.
Donations may also be dropped off at the Primavera Foundation located at 151 W. 40th St., Tucson, AZ 85713.
Or, to arrange for pick-up, contact Alonzo Morado, Primavera's community engagement coordinator, at (520) 308-3124.