9) VOLUNTEER WITH US
The first step to becoming a volunteer with Primavera is contacting our Volunteer Coordinator and setting up a volunteer interview. When you meet with our coordinator you'll have the opportunity to learn more about our organization, fill out an application, and share your interests and availability.
Contact our Volunteer Coordinator at (520) 308-3110 or volunteers@primavera.org.
---
Meet Martin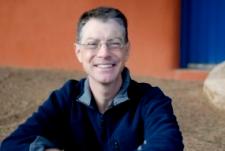 What does a bicycle commuter do when he's not forecasting severe weather? Volunteer at Primavera's Men's Shelter. Martin has been doing just that for the last eight years. Every Wednesday evening, Martin hops on his bike, heads for the Shelter, and performs intakes with first-time clients.
---
Types of Volunteer Projects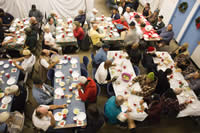 The availability of these opportunities change throughout the year, so not all projects are available at all times. This list provides a general overview of some options for volunteers.
Direct Contact Work
Help guests at the men's shelter fill out their intake forms on their first visit, pass out free toiletries and mail to clients at our drop-in center, or prepare breakfast for homeless women in need.
Behind the Scenes
Assist our staff with data entry, answering phones, filing, copying, etc. Behind the scenes work is as valuable as direct work—it allows staff to provide uninterrupted and important services to participants.
Meal Teams
A great group project! Choose from preparing and serving breakfast, lunch or dinner at our Men's Shelter, creating sack lunches for the hardworking men and women of our Primavera Works program, or preparing and serving dinner at one of four other Primavera locations.   
Special Events/Committee Work
Primavera hosts public forums on social justice topics, plans annual events like the Homeless Memorial, Homeless Street Count, and NeighborWorks® Day of Service, and hosts exciting fundraising dinners as part of our Primavera Cooks! event.
---
Current Volunteer Opportunities
HELP OUR MARKETING COORDINATOR

Our Marketing Coordinator needs your help behind the scenes! We're seeking an experienced photographer or photojournalist to help capture our stories, document projects and events, take portraits of our senior leadership, and more (for print and digital marketing collateral). The schedule is flexible, varies Mon.-Fri. 9:00a-5:00p., based on project and subject availability while collaborating with the marketing and communications coordinator. Access to a professional digital camera is required.

Do you...
• have experience with photography or photojournalism?
• have reliable transportation (to travel to and from project-based locations in South Tucson area)?
• enjoy working with people?
• pay special attention to detail?
• communicate well via email?

If so, we'd like to hear from you!

SACK LUNCHES FOR OUR PRIMAVERA WORKS WORKERS

Make lunches for our Primavera Works workers! Our social enterprise employment agency provides ethical day-labor opportunities for men and women. We provide above-minimum wage, temporary employment options and temp-to-hire opportunities for people who are homeless and unemployed or under-employed. We offer hearty sack lunches to our workers going out to work Monday through Friday, and we are in need of volunteers to purchase lunch materials, make sandwiches, and compile sack lunches, and drop them off at Primavera. We will take any number of lunches you are willing to donate - we try to have 15-20 lunches daily. Please drop off sack lunches Monday through Friday between 8:00 a.m. to 4:00 p.m. at our Jim and Vicki Click Training Center located at 151 W. 40th St. (off of 6th Ave. in South Tucson next to Food City). Please call (520) 623-5111 if needed.

A sack lunch should include:
• two (2) plain meat and cheese sandwiches (no mustard/mayo)
• one (1) piece of fruit (oranges hold up the best)
• one (1) bag of chips, crackers, or pretzels
• one (1) granola bar, cookie, or brownie, etc.

BREAKFAST MEAL TEAMS AT OUR MEN'S SHELTER

Sign up to purchase, prepare and serve breakfast for the participants at our Men's Shelter. Teams shop for the food, prepare it, and serve it. This is a great group project - for people of all ages. The shelter residents benefit from the companionship as much as the food. Breakfast is served every day at 5:45 a.m. for 100 men. Are you not quite a morning person? You can drop off the food at the shelter the day before and still feel good about knowing you helped others. Primavera provides all the plates, cups, and silverware - you provide the food and drink.

LUNCH MEAL TEAMS AT OUR MEN'S SHELTER

Sign up to be a lunch meal team for the participants at our Men's Shelter. You can do this once a year, twice a year, every other month, once a month or once a week. You (and you team) are responsible for purchasing food items, preparing and serving the homeless men at the shelter. You are welcome to stay and eat with them - or just serve and go. Primavera provides all the plates, cups, and silverware - you provide the food and drink. This is a great group project. The shelter residents benefit from the companionship as much as the food. Lunch is served at 11:30 a.m. every day of the year. Please arrive at 11:00 a.m. for set up or earlier if you are cooking at the shelter.
---
Volunteer Locations
There are a variety of places where you might spend time volunteering. Talk with our Volunteer Coordinator to find what projects might be available at different locations*.
Homeless Intervention and Prevention Drop-In Center
702 S. 6th Ave., Tucson, AZ 85701
MAP
Men's Shelter
200 E. Benson Highway, Tucson, AZ 85713
MAP
Catalina House
115 S. 4th Ave., Tucson, AZ 85701
MAP
Five Points Housing
720 S. 6th Ave., Tucson, AZ 85701
MAP
Winstel Housing
2191 S. Winstel, Tucson, AZ 85713
MAP
*Some of our locations are undisclosed for the safety of participants.