ENGAGE IN PRIMAVERA COOKS!
The Primavera Cooks! Summer Dining Event is quite possibly the most fun you will ever have at a nonprofit fundraising dinner! Each year we fill select local Tucson restaurants like Tavolino Ristorante Italiano, Agustin Kitchen, and Kingfisher Bar & Grill with a lively group of socially conscious diners who want to support the programs and services of Primavera and have a great night out. Join us for one of these four or five course, wine-paired, gourmet dinners created by some of Tucson's top chefs and find out why diners return year after year.
To participate in any aspect of Primavera Cooks!, contact our Philanthropy Events Coordinator, David Elliott, at (520) 308-3104.
---
17th Annual 2018 Primavera Cooks! Dinner Schedule
All dinner reservations are made through Primavera at (520) 308-3104, NOT the restaurants. Unless otherwise noted, all dinners begin with a reception and check-in from 6:00-6:30 p.m. with dinner seated at 6:30 p.m.
| | |
| --- | --- |
| The Carriage House | May 30 |
| Vivace | June 6 |
| Feast | June 13 |
| Reforma Cocina Cantina | August 1 |
| Tavolino Ristorante Italiano | August 15 |
| Agustín Kitchen | August 28 |
| Contigo Latin Kitchen | September 5 |
| Pastiche Modern Eatery | September 12 |
| Kingfisher Bar & Grill | September 23 |
---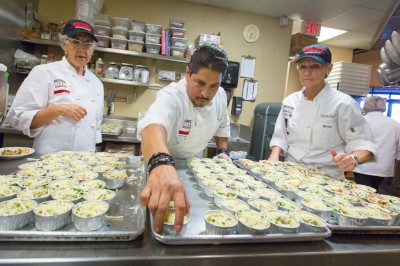 Become an Apprentice Chef
Have you ever wanted to cook in a professional kitchen alongside a world class chef for a room full of discerning diners and friends? Primavera Cooks! can make it happen as you experience what it's like as an apprentice chef. You choose from one of the select local Tucson restaurants, including Tavolino Ristorante Italiano, Pastiche Modern Eatery, Kingfisher Bar & Grill, and others, to help plan the menu with the chef, participate in the preparation and creation of the dishes with professional cooks, and then plate up the dinners for the servers to take to the dining room. Make your dream of cooking in a restaurant a reality and register as a Primavera Cooks! apprentice chef. The cost is $250, a portion of which is tax-deductible. Apprentice chefs are responsible for bringing or recruiting at least five diners to their dinners.

Apprentice Chef Gift Certificates would be perfect for your favorite foodies in mind. Contact us to purchase some for their birthday, retirement, or another special occasion.
---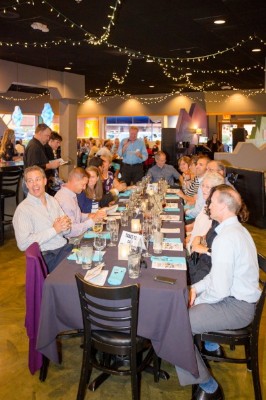 Attend a Dinner
Enjoy the fruits of the restaurateurs' and apprentices' labor at these gourmet wine dinners. Dinners are $125, a portion of which is tax-deductible. All reservations are made with Primavera directly and not with the host restaurants. Payment must be made in advance of the dinner through Primavera.
These wine-paired, multi-course meals are a wonderful culinary experience. Apprentice chefs design a new special Cooks! menu every year under the tutelage of the head chef. Check out these truly inspired meals from previous years:

Dinner Guest Gift Certificates would be perfect for your favorite foodies in mind. Contact us to purchase some for their birthday, retirement, anniversary, or another special occasion.
---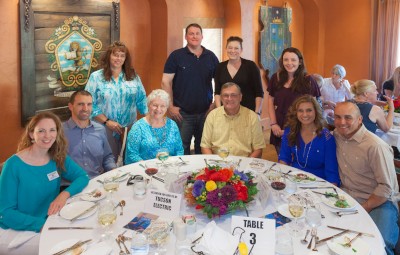 Be a Sponsor
Highlight your business or group by joining forces with Primavera and underwriting this summer-long fundraising event. Sponsorships play a critical part in the success of the Cooks! dinners because underwriting dollars allow the money raised from each dinner to go directly toward Primavera's programs and services for homeless and working poor members of our community while providing important recognition for your businesses. Plus, there are lots of perks, depending on the level of underwriting there are opportunities free dinners and/or for you to be an apprentice chef.
---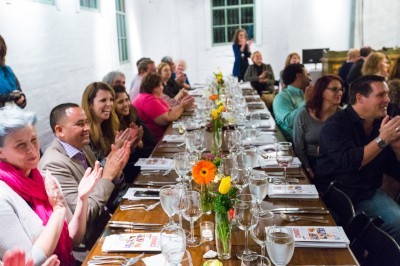 Book a Corporate Buyout Dinner
Garner great publicity and karma for your company or group while also rewarding clients, staff, VIP's and vendors at an unforgettable night out. Senior management enjoys a unique teambuilding experience by cooking dinner for and pouring wines for your invited guests. This event will have your staff talking about what a great time they had for weeks afterward. Cox Communications, Raytheon Women's Network, and Community Partners, Inc. are all raising the bar on staff appreciation and team building with this one-of-a-kind event. Let us customize a dinner that will help bring out the best in your company!
---
Special Thanks to Our 2018 Primavera Cooks! Sponsors